The husband and I have a guest room/office that is on the cusp of greatness. First came the throw pillows, then came the lamp, and soon, the paint (yes, I finally made a
decision)
. Then, finally, it will be time for the desk.
We used to have 2 desks (1 in my apartment, 1 in his) but saw no reason for the 2nd one. Once we got married, we would have only one working desktop PC, a MacBook, and an old desktop PC that was on its way out. So, we got rid of my desk. We gave it to...actually, I don't remember what we did with my old desk. Good Will, maybe? The trash? Gosh I'm glad it's the weekend - my brain is fried! Anyway, with Grad School resuming this October, the husband and I decided it was time to create some space for me in the office.
I had been drooling over this Parsons Desk from West Elm for months and months...
Isn't it gorgeous? John & Sherry over at
YoungHouseLove
have the same one in glossy white: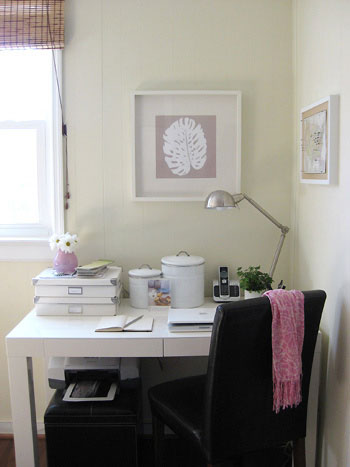 Unfortunately, at $329, it was oceans away from our price range.
Then came the Mini Parsons Desk from West Elm...
just as chich but even more adorable!
Alas, our newlywed budget could never take the $250 beating.
Then, out of nowhere, I stumbled upon this little gem...
Could it be? A nearly identical Parsons Desk from Walmart of all places for just
forty-nine dollars
?!
I immediately told the husband about the desk. His response? "It's very simple...but definitely nice and modern". I agree - it is
perfect
!
Sadly, they are out of stock in BOTH Walmarts in our area, as well as the Walmart near my mom's house in New York AND they are out of stock online. Ugh! What's a girl to do? I must have this desk!
So, my plan is to obsessive-compulsively check the website and call each Walmart in the surrounding area every single day until I find one in stock. And if I ever feel like giving up, I will look at this for inspiration to continue in my pursuit for the perfect (and affordable) desk...
So, what is your most recent "must-have" item?